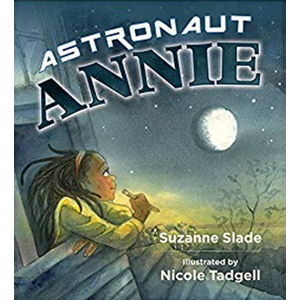 The Global Space Education Foundation Experience project, Story Time from Space, sends great story time books into space that are then read by astronauts on the International Space Station (ISS)!  These experiences are captured on videos and produced with a split screen that include a close-up view of the book so that those watching can easily see the page of the book being read as well as the astronaut.  Some pages are even animated. A number of videos are available to watch anytime on the Story Time from Space website.
The most recent book read available is A Moon of My Own by Jennifer Rustgi , illustrated by Ashley White, and read by Astronaut Serena Auñón-Chancellor https://storytimefromspace.com/a-moon-of-my-own-2/ .
The recent SpaceX Falcon 9 CRS-17, a ISS resupply mission that launched in early May, had on board Astronaut Annie by Suzanne Slade and illustrated by Nicole Tadgell. Keep an eye out for its reading on the Story Time from Space website. In the book, Annie is preparing for Career Day at school and many of her family members think they know what she wants to be when she grows up. She surprises them at the Career Day presentation. This is a Tilbury House Publishers book https://tilburyhouse.com/ .