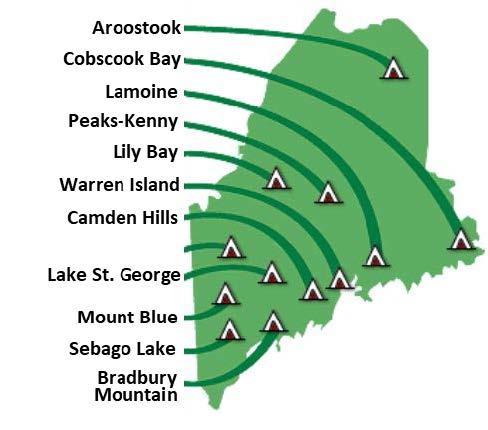 Cornerstones of Science announced today that it is partnering with The Maine Outdoor Heritage Fund , U-Maine's Emera Astronomy Center, and a collection of Maine astronomers and trained naturalists to develop stargazing programs for guests and visitors at twelve State Parks in Maine (see map).
A Maine Outdoor Heritage Fund grant will be used to purchase twelve telescopes and star kits, two iPads with star apps, and astronomy books, plus hold a night sky training session for park staff and program presenters at the Emera Astronomy Center in Orono. As early as summer 2020, the twelve telescopes will be accessible to rangers across Maine's State Parks. The program is designed to encourage members of the public to get outside and enjoy Maine's exceptional night skies. Maine is home to some of the nation's darkest skies and has been launching an international night skies movement for the last several years.
"Cornerstones is thrilled by this new partnership because it encourages exploration of the natural world and allows increased access to STEM programming, which is critical to a science-literate public," said Cynthia Randall, executive director of Cornerstones of Science, based in Brunswick, Maine. Randall noted that Cornerstones has helped to place telescopes in 65 libraries across Maine, and will ensure that connections to local libraries can be made by residents of towns within range of the twelve State Parks.
Stargazing programs are designed to connect the public to Maine's extraordinary natural heritage during the nighttime hours, when increasing numbers of people hesitate to be outside. Viewing the stars has the inherent ability to make people think outside themselves and to wonder about their place in the universe. This project is designed to connect stargazers with the importance of the stars for navigation by humans and animals, and to inspire increased protection of night skies.
Look for these stargazing programs during the summer of Maine's bicentennial, 2020. They will be announced in this newsletter and online at www.ParksAndLands.com.
Night sky photo by Neale LaSalle.