Explore Tech Exhibit: Engineers Make a World of Difference
At Curtis Memorial Library
Brunswick, ME
October 28 – December 29, 2017
Join Curtis Memorial Library Saturday, October 28 from 10:30 am to 2:30 pm, for the opening event of the Explore Tech Exhibit. The event will be a day of engineering experiences and conversations with local engineers. An array of hands-on activities and challenges will encourage playful learning. Visitors will meet entrepreneurs from TechPlace, Brunswick Landings' Business Incubator Technology Accelerator and other local innovators. Cornerstones of Science will also be on hand assisting with activities.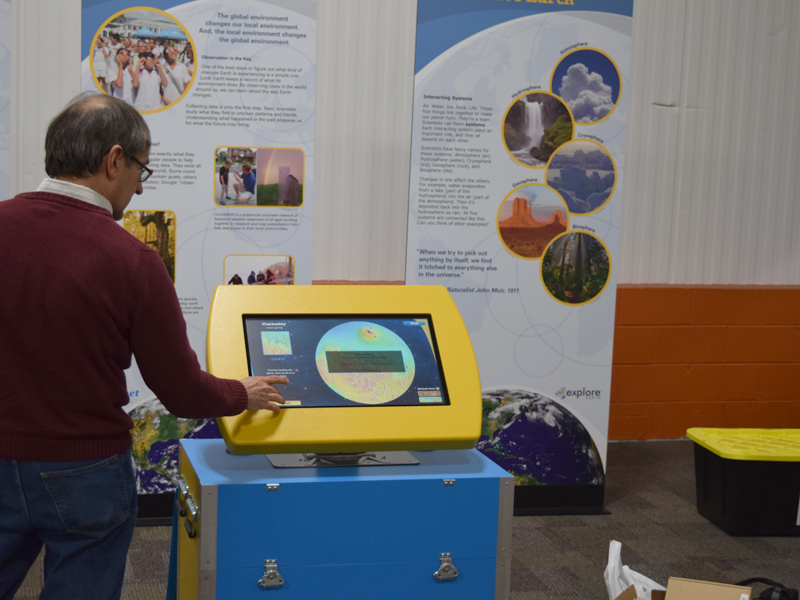 Explore Tech: Engineers Make a World of Difference, a traveling exhibition for libraries, is part of the STAR Library Education Network (STAR_Net) led by the National Center for Interactive Learning at the Space Science Institute. Exhibit partners include the American Library Association, the Lunar and Planetary Institute, and Afterschool Alliance. Explore Tech is supported through a grant from the National Science Foundation.
Curtis Memorial Library was chosen as one of fourteen sites and will host the exhibit through December 29, 2017, in the library's Collaboratory.
This exhibit shows how engineering provides solutions to better meet human needs and develops sustainable innovations for the future, and how engineers create new technologies to solve problems. It features hands-on and multimedia components that allow exhibit visitors to interact with exhibit content in a dynamic way, encouraging new perspectives about engineers and their vital work.
Visitors will become familiar with the National Academy of Engineering's 14 Grand Challenges for Engineering, critical issues that must be addressed in the 21st century. They will also learn about the fundamental principles of energy, become aware of their own energy use, and understand the impact of engineering on societies over time and place.
The exhibit includes three areas: Engineering: Past, Present, and Future, High Tech/Low tech, and Power Up! Creating a Sustainable Energy Future. The exhibit will include a touchscreen computer kiosk that contains a several games that will engage children and adults. Some of the interactive experiences include Game Changers, which is about the Grand Challenges, along with a Quiz game.
During the exhibit period, the library will host several programs for adults, teens and children. Here are the first few:
Saturday, November 4 at 10 am: Meet the Robots—An interactive robotics program presented by Robotics Institute of Maine.
Wednesday, November 8 at 6 pm: Bowdoin Women in Computer Science Panel Presentation cosponsored by the American Association of University Women.
The Fall Science Read at the library will be Hidden Figures: The American Dream and the Untold Story of the Black Women Mathematicians who Helped Win the Space Race by Margot Lee Shetterly. This is the phenomenal true story of the black female mathematicians at NASA whose calculations helped fuel some of America's greatest achievements in space. Multiple copies of the book will be available in October and programs to enhance patrons' reading of the book are scheduled for November and December. — Pamela Bobker