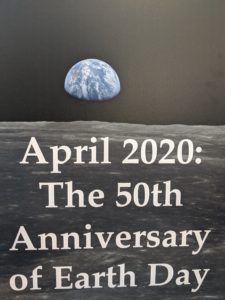 Have you started planning in your community for Earth Day? April 2020 is the 50th anniversary of Earth Day and Citizen Science Month. Find some great resources at StarNet Libraries Our Planet: Earth, or at the Cornerstones of Science Citizen Science page. NASA has some amazing open source images of Earth taken from space that could be printed and used in the library to show off our beautiful planet. And don't forget about the downloadable Librarian's Guide to Citizen Science through SciStarter (look in the Archived Resources column).
Special Cornerstones Project
Cornerstones is also working on a special NASA@ My Library research project called the Patron Experience Pilot (PEP) along with the Space Science Institute, Northern Illinois University, and three libraries across the US (Show Low in Arizona, Tom Green County in Texas, and Gwinnett County in Georgia) to highlight Earth Day in a special display at each library for eight weeks in order to help patrons learn more about and potentially increase their interest in earth, space, and NASA science. The display will change for the summer incorporating the Collaborative Summer Learning Program (CSLP) theme Imagine Your Story™, and then will follow the International Observe the Moon Night (InOMN) theme for the fall.
Header photo by NASA.