Binoculars Give a Closeup View of the Night Sky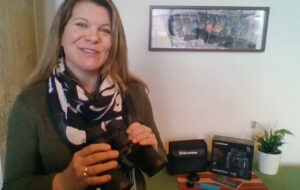 Did you know that you don't need a telescope to get a closer look at the stars and planets in the night sky? In fact, a simple set of binoculars can provide 7-times the magnification that your normal eyes do.
Binoculars will give you a better view the night sky, but there are a few simple steps you need to know to get started.
In this 3-minute video, watch Sarah Post from Cornerstones of Science and the NASA@ My Library project, as she walks us through the easy steps of adjusting a pair of 7 x 50 Celestron Binoculars. This a great way to spend time with friends and family members and increase everyone's appreciation for science and the night sky.
Using Binoculars to View the Night Sky
This quick and easy video that walks you through the easy steps to get started and will improve your ability to see the night sky in minutes. Watch Sarah and she takes us through the easy steps, including how to focus one eye at a time. Don't miss her final trick for getting started the right way.
Once you've mastered this simple technique for viewing the night sky with binoculars, you can check out Sarah's explanation for "How to Use a Planisphere" and the other Telescope Trainings and STAR Program Workshop Videos offered by Cornerstones of Science.